Today is a
very
special day, my friends... I have an all-new, beautiful blog design that I
absolutely love
! If you're reading this in some sort of feeder, please
click over
and take a look - it finally looks like my blog wasn't designed by a kindergartener playing with MS Paint ;) The design is courtesy of
Jessica at Diamond Doll Designs
, who is an absolute doll herself. I am tickled pink with what she dreamed up for Typically Late!
A recent addition that you may not have noticed is that there is now a special
"Recipes"
tab - every recipe posted on the blog has it's own special link over there, so you can find exactly what you're looking for, or browse through my creations to try something new. Take a peek!
Anyone else feel like this week absolutely flew by? It's going to be Thanksgiving before we know it! Whew. Today's Five for Friday is a bit of a jumble... bear with me!
1 // These views. I can't even. Virginia in the fall is almost too gorgeous to handle (unless it's a rainy day.. then ick!) - so lucky to live in a place that looks like a picture.
2 // SOMEONE managed to get himself locked in a spare bedroom before work one day this week, and spent the day ripping the heck out of the carpet trying to escape. (He has a total complex about being behind closed doors - something about his life before we rescued him makes him absolutely go nuts about this - so I can't really blame him, even though it's totally frustrating). Lucky for him, he was so snuggley and cute when he was finally freed...
3 // My dad and I often find ourselves watching TV "together" - this week it was the CMAs, and we were texting all night about the singers and performances. He's funny sometimes... :)
4 // dinner last night, brought to you by Trader Joe's... we don't usually do frozen, pre-made things (if we do frozen, it's homemade!), but I keep a couple of things for "emergency" nights. Last night, with a Caps game, Redskins game, and allergy shots for me on the agenda, we pulled out a new TJ's entree to try. It was actually pretty good! We've discussed my love of Mexican food... enchiladas would have to be awful to not pass my taste-test. Ha! Anyone else had these before?
5 // We've got a cold front coming through this weekend, and there is nothing like a steaming cup of fresh coffee in the morning! We use K-cups most mornings, but on the rare days when we break out the coffee pot, it's such a treat to drink "real" coffee.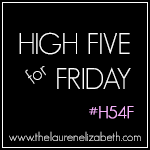 Monday is Veteran's Day - hope you've got a long weekend like we do :) I've got a big event on the calendar for Sunday morning - my next half-marathon! I'll be in OBX with some girlfriends running the race, so say a little prayer for me if you're up early on Sunday. Also, there's a running-related post in the works right now... it's about to get deep around here, y'all. Have a great day!