I intended to write a
What I Ate Wednesday
post today featuring my eats from yesterday, like I
usually do
, but this is the only picture I managed to take all day:
Yeah, I was a little busy. Whoops! So much for Tuesday's food....
Luckily, I remembered that I hadn't yet shared about what we did over the weekend, so instead of Tuesday's food, you get Saturday's! WIAW lives on. (I'm sure you were worried....)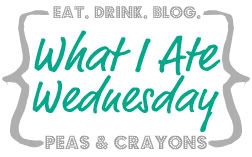 On Saturday, C & I had our final
Restaurant Week
experience: we met
Stephanie
and her husband for dinner at
The Bavarian Chef
, a well-known German restaurant in our town. We spent the evening chowing down on an amazing German feast, and spent almost three hours chatting about all kinds of things - sports, childhood, broken bones, pets... you name it, we probably covered it. We had so much fun, and the food was delicious, too. Can't beat that as far as a Saturday night double date goes!
We started the night with liters of beer (when in
Rome
Germany
a German restaurant, right?) - I had gone to an intense BodyPump class on Saturday morning, and this beer was almost too much for me to handle!
The Restaurant Week menu is a three-course dinner: appetizer / salad, entree, and dessert. I forgot to take a picture of my Winter Salat, but it was delicious: it had parsnips and blueberries (odd combination, but worked really nicely) and a tangy vinaigrette.
For my entree, I went with pork chops and apples, a classic combination, and for dessert, I chose the bread pudding. As good as the pork chops were, the stars of the show were probably the side dishes: they are served family-style, and between the four of us, we got to choose five! Red cabbage, carrots, string beans, Spätzle, and potato dumplings.... I was in German-food heaven.
We almost chose a different restaurant for dinner that night, and I'm so glad that we didn't. We had such a great time at The Bavarian Chef, and I look forward to the next time we get a chance to visit.