A "big" ice storm was predicted for us this morning, but, sadly, no such luck! It was off to work as usual for me, with a big mug of coffee & my boots on since all we really got was rain. I am a Winter baby through and through, but all this dreariness is really starting to get to me. I'm channeling spring today!
All weather-talk aside, it's time for our regular Wednesday programming:
What I Ate Wednesday
! Joining in on the fun again this week - thanks,
Jenn
, for hosting a great link-up!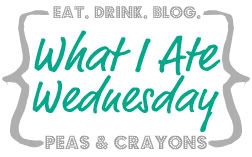 Yesterday was pretty average, as far as eats go, but also delicious - it featured some of my favorites!
Normal breakfast - yogurt, (un-pictured) coffee, and a banana on it's very last legs. I choked that banana down - it was definitely a little too mushy for my liking. The yogurt actually ended up being my mid-morning snack, and held me over til lunch.
C & I had dinner with his parents on Monday night, and his mom sent us home with a bag full of yummy leftovers. That meant lunch - hooray! My mother-in-law was channeling summer (I'm telling you, the dreariness is getting old!), and made BBQ pulled chicken and my favorite pasta salad. It was delicious on Monday night, and just as good on Tuesday! That pasta salad is like Kryptonite... it's SO good. It's a family recipe that my MIL has shared with me, but I've never actually made it - she just has a special touch :)
Continuing to channel summer... dinner was burgers with guac!
Moment of truth:
C was horrified that I was taking a picture of dinner. He kept saying, "it's so ugly!!" and... well, that it is. But that doesn't mean it wasn't delicious! We pulled Trader Joe's Chili Lime Chicken Burgers out of the freezer, and C cooked them on the grill pan before topping them with guacamole and pepper jack. They were pretty good, but honestly? I've made a
copycat version
of these that are so much better (thanks to my BFF, Iowa Girl Eats!)- so I'll probably stick with making my own. This was the first time we've had the frozen TJ's version, and they were just... flat. Oh, well!
We had frozen broccoli with cheese sauce on the side, and shoe-string cheese fries that C made using our new mandolin (topped with ranch, duh). Truly, not pretty to look at it, but the whole meal tasted awesome, and helped me forget that it was rainy and cold outside. Plus, it was quick and easy, and you just can't beat that sometimes.
All in all, it was a day full of non-winter foods, and it was just what I wanted. I do love soups and stews, and I am generally craving carbs like nobody's business right now, but I am looking forward to the warm-weather foods! Can't wait for weekends of grilling out and lots of fresh veggies. Where are you, spring??