I fully intended to participate in
WIAW
this week... and then yesterday kind of got away from me. Whoops! I managed to get myself together about half the time, so you're just going to have to trust me on the rest. Considering this was the day after a snow day, we're lucky I had myself together at all. These random days away from work (while appreciated) totally throw my schedule off. But it's already Wednesday! So yay.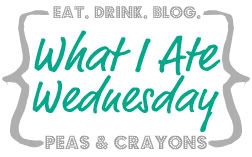 Thanks for the link-up, Jenn!
Breakfast
was standard - banana and coffee. C was in charge of a Target run last weekend, and he came home with a treat:
Archer Farms Vanilla Bean Creme Brulee K-cups
! This is one of our very favorite coffees, but I generally try to get K-cups for a bit cheaper than Target sells them. Well, when you send your husband off shopping alone, who knows what gets thrown in the cart?! So I've been enjoying my coffee a little more than usual - it's so good!
My
mid-morning snack
was pretty standard, as well: yogurt wolfed down between meetings.
Totally failed to get a picture of my
lunch
, but that is probably for the best - it definitely wasn't pretty. I had some leftover spaghetti squash from dinner on Monday, which I mixed with basic marinara, and some tuna salad that I threw together with red onion, pickle, Greek yogurt, and a little light mayo. It was good, but I felt obligated to eat alone in my cubical because it was so stinky! Ahh... work lunches.
I don't usually do this, but I had to give in to a
treat
going around the office:
My curiosity totally got the best of me - and it was worth it, because that cookie was delicious! It really did taste like birthday cake.
I forgot to get a picture of my
pre-gym snack
, but I ate a Weight Watchers string cheese in the car on the way to yoga. My tummy was rumbling when we got home from work, and I needed something to hold me over! The cheese did the trick while I vinyasa'd for an hour.
I got home to a delicious
dinner
-
salsa chicken
burritos! Our crockpot totally kicked the bucket a few weeks ago (RIP, old friend) and I'd been feeling a bit like I'd lost a limb without it (over dramatic much?...). We rely on it so much during the week! Luckily, my sweet aunt promptly sent us a new one as a housewarming gift, and it arrived on Monday, so we had to test it out! Salsa chicken never fails. We wrapped the filling in flour tortillas with a little cheddar melted on top, and paired it with (un-pictured) side salads while watching
The Voice
(battle rounds - hooray!).
I was one happy camper! And looking forward to leftovers for lunch today already. I'm so happy to have a working crock-pot again!
So tell me...
What's one kitchen appliance you can't live without? Obvi mine is my crock-pot...
What are you watching on TV right now? C & I both love the Voice and kind of hate American Idol.