It's been a hot minute (do people still say that?) since I participated in What I Ate Wednesday - I can't even remember the last time I linked up! However, I am feeling a bit off my blogging game (a few family tragedies and unexpected travel will do that to ya), so I figured that a "routine" post would be a good way to keep easing back in.
If you've never heard of WIAW, check out
Jenn's blog
and read all about it. It's a lot of fun, and I've found a lot of great bloggers through this link-up. Join us!
On to the good stuff. Here are my Tuesday meals!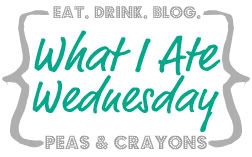 Breakfast was semi-standard. I had my usual coffee and yogurt, but no banana. C did the grocery shopping for me on Sunday after my race, and I forgot to put bananas on the list. I'm missing them a bit this week!


Lunch was not the norm. We ate leftovers on Monday night, and I realized that it left us with nothing for lunch on Tuesday. Our fridge is looking a little bare between my being gone last week and not wanting to do a big shop before a holiday weekend, soooo the pickin's are slim for lunches. I ended up at a local deli with my boss, and grabbed this awesome sandwich. Seriously - this thing hit the spot. This deli carves your meat fresh to order, so I watched them slice my turkey right off the bones the moment I ordered. It is delicious! I added spicy mustard, lettuce, tomato, red onion, and alfalfa sprouts, and it hit the spot. There is nothing like a good sammy!
When we got home, I was feeling like my sugar was a little low, so I grabbed a couple few several handfuls of trail mix before yoga. This particular bag of TM seems really raisin heavy. Why are they never heavy on the M&Ms?! Sigh.


Dinner was a change from the norm, too. Our freezers (we have an indoor and outdoor fridge/freezer) are packed to overflowing. Since we generally cook fresh foods, I rarely use the "in case of emergency" things I've collected. Therefore, we've got frozen TJ's entrees, frozen pizzas, and containers of soup, stew, and chili just taking up space. It's time to use some up! So dinner last night was chicken taquitos from TJ's, which C paired with some Spanish rice and doctored-up retried beans (some cheese and hot sauce goes a long way for those!). It was a delicious quick, semi-homemade meal, and there was enough leftover for lunches today. Winning!
We ate dinner while watching the finale of The Voice - we actually kept up with the whole season this time around! The there finalists were some of my faves, and I was happy to see any of them win. However, the results were not what I was expecting! I thought for sure that Christina would come in first. Color me surprised, America. I enjoyed the show, though - there were some really great musical performances and guests. I will miss it... but my ALL TIME FAVE show is coming back soon: So You Think You Can Dance! HOORAY!
So tell me...
Are you a sandwich lover like I am? What's your favorite combination?
How do you keep inventory of what's hidden in your freezer??
Did you watch the finale of The Voice? Were you surprised / happy / mad about the results?