There's really nothing like the sound of a smoke detector chirping to tell you the battery is low.... at 2:30 AM. Right?? You've never seen my husband rip something off the wall the way he did with that dang thing, before tossing it under a pile of blankets in a spare bedroom and grumpily climbing back into bed. We have those
stupid
wonderful
alarms with built in batteries that can't be removed so
... it's still at home chirping. Perfect. Welcome to Friday!
I thought I'd do something a little different for Five for Friday today, and share with you five links to some of my favorite things on the web this week. Take a peek!
Brain on Fire
// I think I've found the next book I want to read... sounds fascinating. And terrifying.
I See You
//
Sam @ Reddy or Knot
linked to this article this morning and it really touched me. I think that I do a good job of trying to "see" people versus just immediately judging and looking away, but I know that I am guilty of the glance-over, too. Children can teach us so much.
Baked Goat Cheese with Pull-Apart Baguettes
// Could this look ANY more delicious?! I think not... I need to bring an appetizer to a get-together this weekend and I may have just found exactly what I was looking for!
A 20-Second Stretch for Better Posture
// So important for those people (like me) who are stuck at their desk most of the day. Fight against bad posture! Take a few seconds to do this simple stretch.
A New Harry Potter & the Deathly Hallows Theory
// Potter fans will enjoy this one - an article describing some of the links that may go unseen regarding the Deathly Hallows.
Did you read anything inspiring or interesting this week? Send it my way. Have a wonderful (hopefully long!) weekend, my friends.
linking up with the five on friday girls: Darci, Christina, April,and Natasha
As if they weren't enough fun, they are doing an awesome giveaway this week - go check it out!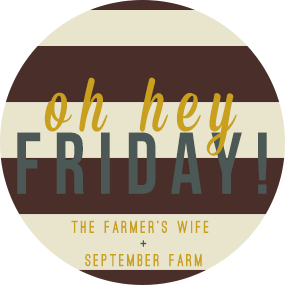 linking up with karli and amy