You know, I thought that taking a day off in the middle of the week would make the rest of the week fly by, but it turns out that I was so very wrong - the last few days have dragged by. We've been getting to bed later than usual, and waking up earlier thanks to a certain kitten, so I'm kind of in zombie mode. (Also, having a kitten has made me terrified for the days when we have an infant - when do you sleep?!) I need my beauty sleep, friends. There may be a major nap on my calendar this weekend. Don't worry about it.
In honor of one of my favorite Friday link-ups coming back effective today, I decided that today's Five for Friday / Friday Favorites should be a few of my truly favorite things right now. Here's what I'm loving at this very minute!
Sam Hunt X2C LP
-- playing this on repeat these days! His song, Leave the Night On, is one of my favorites on country radio right now, and I like jamming out to his other songs now, too! Looking forward to hearing what else he produces - he seems talented! His CD, Montevallo, will be released on October 27.
The Blacklist: Season 1
-- y'all. Why did no one tell me about this show before?! (confession: they probably did. oops.) I am notoriously behind the power curve when it comes to new television shows (we won't talk about Breaking Bad, ok?), so this should come as no surprise. C & I started this on Netflix the other day, and before I knew it, we'd watched 4 episodes and it was way past bedtime. Love it so far! I was happy to see that Season 2 JUST started, so I'm actually not as late on this one as usual... who else watches it??
BodyCombat
-- One of my all-time favorite classes that I have been missing since switching to my new Gold's last year, as it was never on the schedule at a time when I could attend. The new October class schedule brought a welcome surprise: a Thursday night class I can get to on time! Wahoo! I loved every minute of it last night, and I'm looking forward to getting back in there regularly.
OPI: Tickle My France-y
-- this is my all-time go-to for a neutral nail for fall. I cannot handle regular manicures: it is guaranteed that I will chip my polish on the day I get them done. So I stick with at-home manis, and wear this color constantly. It's the perfect blend of pink, grey, and beige - I look cleaned up, without it being super obvious when the chips start. Winning!
Celestial Seasonings Sleepytime Tea
-- when the weather starts to get cold, I look forward to take a cup of tea to bed with me. This is my go-to bedtime tea - it helps to calm me down, and I truly do notice that I sleep better when I've had it. It's not too herby, and sweet enough that I don't need to add honey or sugar to it. Are you a tea drinker? Definitely recommend this one, if so.
{FYI: affiliate links above!}
Hope you have an amazing weekend! How's the weather where you are? It's just starting to cool off here, and I've heard we are going to have a cold front this weekend. C hooked up the gas to our fire place... just in time! :)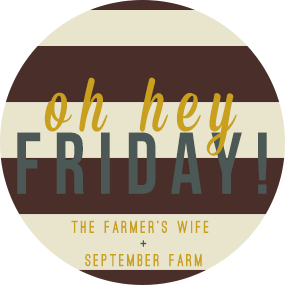 linking up with karli and amy