Honestly, I feel like I say this every Friday but... this week has been crazy. I was supposed to be in Florida the past three days for an off-site meeting, but we cancelled the trip at the last minute and rearranged everything to hold the meetings in DC over the past two days. Throw in that odd Tuesday holiday, and my whole world is topsy-turvy. Hi, I'm a creature of habit, have we met? Thought so.
Anywho. Today's Five for Friday is five things that I just really can't flesh out into entire posts on their own. I'm not sure what direction this is going in, so let's see....
1 //
My company recently hosted a walking / steps challenge, and any team who had an average of a certain number of steps over a certain number of weeks won.. the prize was a FitBit for everyone on the team! I was lucky enough to be on a great team where just about everyone pulled their weight (ha), and this week I got to place my order for a free FitBit! I am super stoked for it to arrive... I know it's a glorified pedometer, but I've been wanting one for a while and unwilling to bite the bullet and purchase it myself. An all-around win!
2 //
I know everyone is currently raging on and on about T.Swift's new album (and I'll admit, I love it, too) but can we talk about another song I am loving right now? That would be Carrie Underwood's newest,
Something in the Water
. I am not a hugely religious person, but that song is freakin' gorgeous. I just can't help but turning it up every time I hear it.
3 //
One of my favorite parts of the holidays is all the television / music specials that come on this time of year. I'm really looking forward to the annual
CMA Country Christmas
show - it's on ABC on Monday, December 1. Set your DVRs accordingly!
4 //
C and I share a desk / office space, and it has worked pretty well for us in the past, but now that we are both working from home a bit more, we are thinking we need two work spaces. That means a new desk, and a second monitor / keyboard / mouse / etc. that we can hook up to. So... sounds like Christmas presents this year are going to be of the "productive" sort. Any good desk recommendations?
5 //
My mom was nice enough to (attempt) to take some Christmas card pictures for us, and I'm working on editing them and choosing what to use on our card this year. Selecting and creating a Christmas card stresses me out way more than it should, every single year. First world problems, for sure. We got outside for pictures right in time to capture some gorgeous autumn colors... is there anything better than Virginia in the fall??
Happy Friday, y'all! Thanksgiving is two weeks away :) Who's
ready
excited?!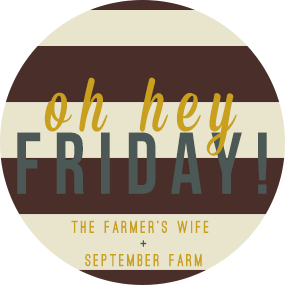 linking up with karli and amy