I'm combining today's Twelve Days of Christmas Cookies post with a Five for Friday post... thought I'd switch it up for ya a bit!
Today's TDOCC theme is no-bake treats, and who doesn't love a good treat that has no over required?? Things like this are great to make while baking cookies, because you can have one kind of cookie in the oven and be creating a totally separate second kind at the same time. Multi-tasking at it's finest!
Here are five of my favorite no-bake treats from Pintrest (duh) - I am definitely going to have to test some of these recipes out on my family, neighbors, and co-workers! Yum.
1 //
Coconut Pecan Pralines
- how amazing do these look?? They remind me of the pralines C and I got in Savannah while on our honeymoon... my mouth is watering just thinking about it!
2 //
Baileys Bon-Bons
- Baileys over ice is a standard post-Christmas dinner treat in my house. Turning Baileys into candy? What could be better!?
3 //
Pretzel No-Bake Cookies
- the combination of sweet and salty is always one of my favorites. Plus, the oats in the recipe would really give them some substance, I'd imagine. Sounds delicious!
4 //
Millionaire's Shortbread Bars
- I love the shortbread-cookie base on these... definitely a great semi-homemade trick! Makes them a little sturdier, while also adding that yummy, buttery shortbread flavor.
5 //
Homemade Turtles
- there will be no turtles for C, due to his nut allergy, but I'd be happy to suffer through a batch of these all on my own... they look absolutely decadent. And starting with caramel squares is genius!
What's your favorite no-bake recipe? Please share! They are a great thing to have an arsenal of.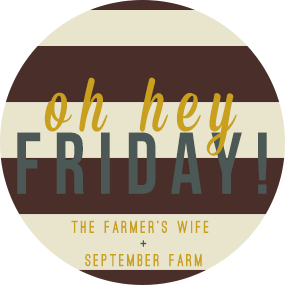 linking up with karli and amy